.Alaskan Guide Service
Fully guided hunts for trophy Brown/Grizzly Bear, Moose, Mountain Goat, Black Bear, Caribou, Wolf, and Wolverine in 3 different areas of Alaska. Resident Alaska Master Guide with 23 years experience. All of our professional guides are experienced Alaska residents. Big bears are our specialty!
Afognak Wilderness Lodge
Hunt Kodiak Brown Bear, Roosevelt Elk, Sitka Blacktail Deer & Sea-Ducks from this elegantly rustic log lodge/cabins of the Kodiak Islands. High % success, floatplane access, since 1974.
Alaska Coastal Guiding
AK Coastal Guiding offers boat based guided hunts for both Brown and Black Bear on the mainland coast and ABC islands of Southeast Alaska. All hunts are conducted aboard our 48 foot vessel where you will enjoy warm and comfortable bunks, hot showers, and excellent meals including seafood (halibut, salmon, crab) caught fresh during your trip.
Alaska Wildfowl Adventures
Alaska Wildfowl Adventures offers sea duck hunts for harlequins, barrow's goldeneye, old squaw, scoters and much more. Enjoy some of the finest wing shooting in North America while in one of the most beautiful locations
Arctic Alaska Guide Service
Master Guide with over 25 years experience offering premiere quality, fully guided hunts for Dall Sheep, Grizzly, Moose and Caribou. Fantastic, remote hunting areas including 2 exclusive guide use concessions within the Arctic National Wildlife Refuge. High success rates, competitive pricing and numerous references.
Alaska Outdoor Safaris
Hunt with an elite group of Alaska's best guides. Hunt trophy class animals with guides that will provide quality hunts and great opportunities.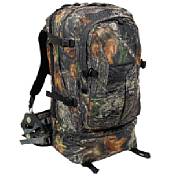 Do you have the right survival items for Alaska
in your hunting daypack?
Find out >>>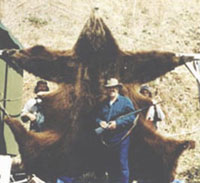 Alaska Outdoor Safaris
Use our experience to plan the best possible UNGUIDED Alaskan hunt. Hunt trophy class animals in areas that will provide quality animals and great opportunities.
South Kodiak Adventures
Our remote location on the Southern tip of Kodiak Island insures top notch unguided deer hunting. World-class fully guided fishing for salmon and halibut , sightseeing and photography trips are also available using our 33 foot, high speed and licensed vessel, the "Alaska Adventure".


Booking Agents
Alaska Outdoor Safaris
Hunt with an elite group of Alaska's best guides. Hunt trophy class animals with guides that will provide quality hunts and great opportunities.
Adventures Unlimited
At Adventures Unlimited we can help you plan your hunting and fishing adventure to either of the two premier outdoor destinations in the world..Alaska and Africa!

LINKS OF INTEREST FOR HUNTERS:
Anchorage & Fairbanks Hotels

Alaska Fishing Guides & Lodges
Alaska Property for Sale
AK Dept of Fish & Game
Sporting Goods & Outdoor Gear

See our
ALASKA HUNTING SEASONS, MAPS
& REGULATIONS
for detailed information on Alaska's Game Management
Units (GMU), regulations, and
seasons for different species in each GMU.


Safari Club International
Wild Game Recipes

Home Page
(AlaskaOutdoors.com)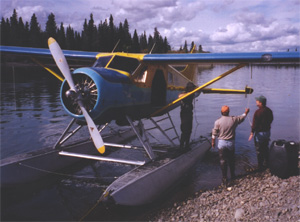 For information about adding your listing
to this directory, please contact:

Alaska Internet Marketing, Inc.
Hosting-Design-Directory Advertising
Anchorage, Alaska
(907) 274-9954
Email: info@alaskaoutdoors.com
"Serving Alaskan Sportsmen Since 1996"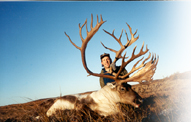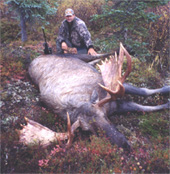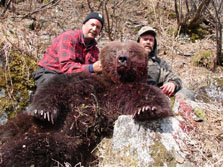 Alaskan Guide Service

* 2016 HUNT SPECIAL *
(Unit 17B - Brown Bear Hunt)

- Discount Price of $13,500. for 1X1.
- Discount Price of $12,500. for 2X1.
- Second Brown Bear Trophy Fee of $3,500.

See our Hunting page for details!